An amphibious species with fishlike faces and huge eyes, the Mon Calamari are among the galaxy's most peaceful and intelligent beings. They are a colorful species, with skin tones ranging the full spectrum of known hues. Many Mon Cal are also marked by vibrant spots or stripes.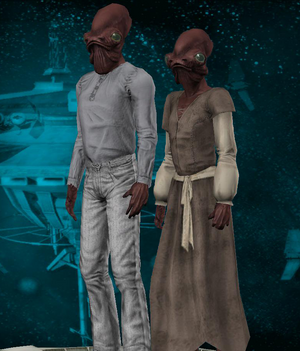 Mon Calamari Stats
Attributes
Racial Bonuses
Racial Minuses
Ad blocker interference detected!
Wikia is a free-to-use site that makes money from advertising. We have a modified experience for viewers using ad blockers

Wikia is not accessible if you've made further modifications. Remove the custom ad blocker rule(s) and the page will load as expected.